Is there a "magic formula" or "secret sauce" for hit songs? Have you been tirelessly working on your songs, but still haven't written
that
hit? Do hitmakers know something that you don't? Well, after working for many of the top hit makers in the business for over 25 years - my surprising (or not) answer to that question is "
Yes! THERE ARE INSIDER SECRETS!"
 Either these songwriters have figured it out on their own - or they just intuitively knew how to craft not just great songs - but hits. 
Having not just signed, worked and/or developed some of the biggest, Grammy Award winning, top charting writers and producers in the world including:
Ryan Tedder
,
Greg Kurstin
,
Savan Kotecha
,
Ariel Rechtshaid
,
Cirkut
,
Jake Torrey
,
Bram Inscore
,
Lindy Robbins
I've also signed artists like:
The Lumineers
,
LMFAO
,
Overcoats
,
Ariel Pink
,
Grimes
,
Kelly Clarkson
,
Active Child
,
Big Freedia
,
Caroline Polachek
,
SOPHIE
,
OneRepublic
,
Peaches
,
Tiesto
,
TOKiMONSTA
and
Cut Copy
, to name a few.
And while they weren't my signings, I also worked closely in the past at EMI Music Publishing with
Sia
,
Rick Nowels
,
Steve Kipner
and
Guy Chambers
.  
A note on Price! I'm offering the courses at a special discount for $197 and will be raising the course to the full price of $997 any day. I do believe there's a million dollars of information in the course, if applied correctly and you put in the work! So, grab the course now because it's on a huge discount (and includes a 30 day money back guarantee). 

 I'm going to share the secrets I've picked up along the way, not just from my own observations and experiences, but also what I've learned from the collective 100 hit songwriters who I've personally worked with.  


So if you're looking for the
unfair advantage
, the
elusive DNA
of hit songwriting, or feel there's a bigger songwriting universe outside of your current knowledge set, you're right. The "
hit songwriting matrix
" in my opinion,
does
exist. And I'd love to share it with you. So, do you want to take the blue pill or the red pill?
"Insider Secrets to Hit Songwriting"
Course Curriculum
Free Preview: Secret #7 - Songwriting Vocabulary Expander
But why should you listen to me? Well, let me introduce myself.

Hi, I'm Benjamin Groff, and

 for some context I've been a music publisher for over 25 years.

I've worked for the majors for 12 years (1994-2006), and in 2006 was hired to start the 1st U.S. office of Kobalt Music Publishing and signed a lot of the key roster over the following decade. Since 2016, I've been the 100% owner of my own publishing company,

Brill Building

, as well as the owner of A&R resource and incubator label,

We Are: The Guard,

where some of the aforementioned writers and artists are signed.  
Additionally, I attended Berklee College of Music (Songwriting and Guitar Performance dual major) and have also written a handful of songs, which have landed on the charts! This is important as it relates to the course, as I'm also a creative musician. Being able to "speak the song language" 
and
 have the unique music business experience, along with a deep obsession with songwriting, I believe allows me to uniquely help other creative people like yourself. 
But as I mentioned,
I do believe there's a "secret sauce" to hit songwriting
. It's almost like there's a hidden
"matrix"
(just like the movie). And much like Neo, once the veil is lifted and you choose the red pill - you just can't write songs the same way ever again. There's what I call the internal
"DNA" of hit songwriting
- and why some songs go all the way to #1 and stay there, maybe even becoming the perennial tapestries of our culture, or just fade into obscurity (if the song is even released at all).
And this course is not just for "hit songwriters." If you're an artist, this course will give you the unfair advantage and tools to build your catalog of songs that
stream
,
synch
,
get playlisted
and become
perennial hits
on their own.
After finishing the course with hopefully your share of "Aha" moments, you'll be able to clearly understand why some songs are destined to be HUGE, while others never leave the <1,000 streams category (and we don't want that)!
This course will give you virtually all the collective knowledge I've ever had on the subject of hit songwriting. And to be honest, they're unique concepts, strategies, and ideas that either I've never heard anyone talk about, or they're completely original theories I've created on my own.
My goal is to bring you all the insider information together on hit songwriting... information and insights, which I usually only reserve to my clients and my own personal publishing roster - in one. epic. course.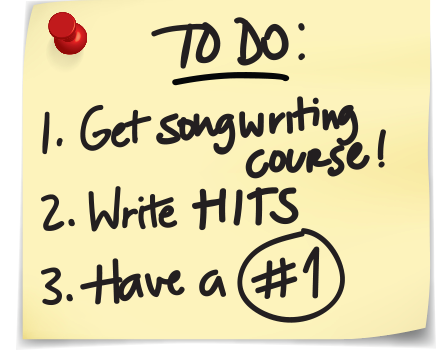 So if you feel you just need that
insider
,
unfair advantage
, and are
so close
to cracking the code... Well, I'm going to
give you the code
within these 25 modules. This is the "hit DNA" of songwriting that I continually see - virtually without fail - in every hit song, from
any
genre or decade.


Lastly, the course contains multiple downloads, supportive playlists, references, homework writing assignments, and specifically designed songwriting exercises created by myself, allowing you to exponentially build your hit songwriting tool kit. Please note that I didn't say just 
"songwriting tool kit!"
 … because these are 
HIT
 songwriting tools! By the end of the course, it's my sincere belief you'll be able to unlock the 
hidden matrix of hit songwriting.
 And at the very minimum, I also truly believe you'll have a completely new set of special "songcraft tools" to help radically accelerate your songwriting journey.
Again, this course is based on all my 25 + years in the music experience and relationships with over 100 key hitmakers, songwriters and producers, and distill it all here for you.
There's even an option at check out where can you find out how to get a 1 on 1 session with me. Yes, that's right! You and I can have a personal, live review critique session with your songs or we can talk about anything from: setting up your own releases, questions on publishing, marketing, publishing deals, general music business or questions about the course!
In closing, I'm incredibly excited to share this course content with you. I hope you enjoy the course and hope to help you on your hit making journey. 
I'll see you on the charts!
Bonus if you've read this far! – Get a free PDF of my new book
FAQs
Q: Will I be able to write a hit song after taking this course? 
A: That result will ultimately be up to you, of course! But you will definitely have an entirely, new and different set of "hit" tools to approach songwriting in ways that you've never thought of before. Essentially, it's my hope that this course will help advance your career and help massively short cut your path to writing that hit! 
Q: What do I exactly get in the course? 
A: Over 25 video modules and 5 hours of content, where I break down all the juiciest insider secrets to hit songwriting. I mentioned before, but you won't hear about most of these in any typical "songwriting books." In each section of the course I also have detailed songwriting exercises (assignments) and course homework. You also get my copyrighted "Songwriting Vocabulary Expander" worksheet, that will provide the path for "being the best you can be" - or maybe even being "amongst the best!"  
Q: I'm a punk / jazz / alternative indie, ska, _____ (insert genre name here) artist. My success and genre isn't "really" about writing a "hit" song. Should I take this course? 
A: Yes, absolutely! We're talking about HITS here, but this course is for anyone who wants to create what I would call "perennial" songs and "career hits" that your fans just continue to stream, playlist, share, and get synchronization requests (have your songs used in film, TV, ads, etc). Don't forget that as an artist, your level of touring is also predicated on the level of fans you have - which comes down to having the most amazing material. The tools in this course apply to writing #1s, as much as they do crafting that career song in any genre lane.
Q: Can I really get 1:1 personal time with you to hear and review my songs, get personal attention with the exercises or consult on my music? 
A: For sure. I'm trying this out - once you've purchased the course, there's a link where you can get extra 1 on 1 time with myself directly for an additional cost. We can schedule this via a Zoom meeting, FaceTime, Google Hangouts, or a phone call.
Q: I'm just starting as a songwriter and I know this is an advanced course. Will I still get value out of it?
A: Absolutely! In fact, I believe a lot of the course material here is going to radically shortcut your journey as a songwriter! I also distill and drill down the simplicity writing hits in just 3 essential elements. Hit songwriting does not have to be "that" hard - though sometimes we make it harder for ourselves!
Q: Is it even possible to have a career as a songwriter?
A: Yes! I even asked myself that question when I was 13, and the answer is not just "yes," but a resounding "Hell, yes!" Now, I can't say, of course, that anyone can just do this. You have to have essential talent, drive, inspiration and commitment, but many people I've worked with have certainly gone on to earn over $1 Million per year. And most successful songwriters commonly make $250,000 a year. It's 100% possible and the goal I have for each writer or artist I work with!  
Q: What if I'm not satisfied with my purchase?
A: We offer a 30-Day Money Back Guarantee. Please note that we cannot guarantee results, however, we'll give you your money back if you're unhappy or unsatisfied for any reason.
Q: Do you offer more courses?  
A: For sure I do! If you're interested in learning about releasing music, I also have the DIY Label Release Plan course that you can check out here. It's huge! There are over 70 modules and 10 hours of video content, downloadable PDFs, an asset and project management template and all my best strategies and secrets that you'd usually only get if you signed to my label. After putting out over 100 releases and garnering over 100 Million streams on Spotify alone, I've assembled a release plan that "just works" for our label! The course starts at 6 weeks from your release and tells you step by step exactly what to do when, all the way up to your release day, as well as post release activities. HINT: The idea of "I'm just going to put it out" is not a plan! Make sure to give your music the best shot at success! Normally $1997. On sale now for $197.


Contact
friends (at) we are the guard (dot) com
3727 W. Burbank Blvd #763
Burbank, CA 91505